Landmark clinical research to predict the need for dialysis in patients with kidney disease is being distributed to the world medical community via a simultaneous release at the international World Congress of Nephrology, online publication in leading medical journal JAMA and via smartphone app 'Calculate by QxMD'.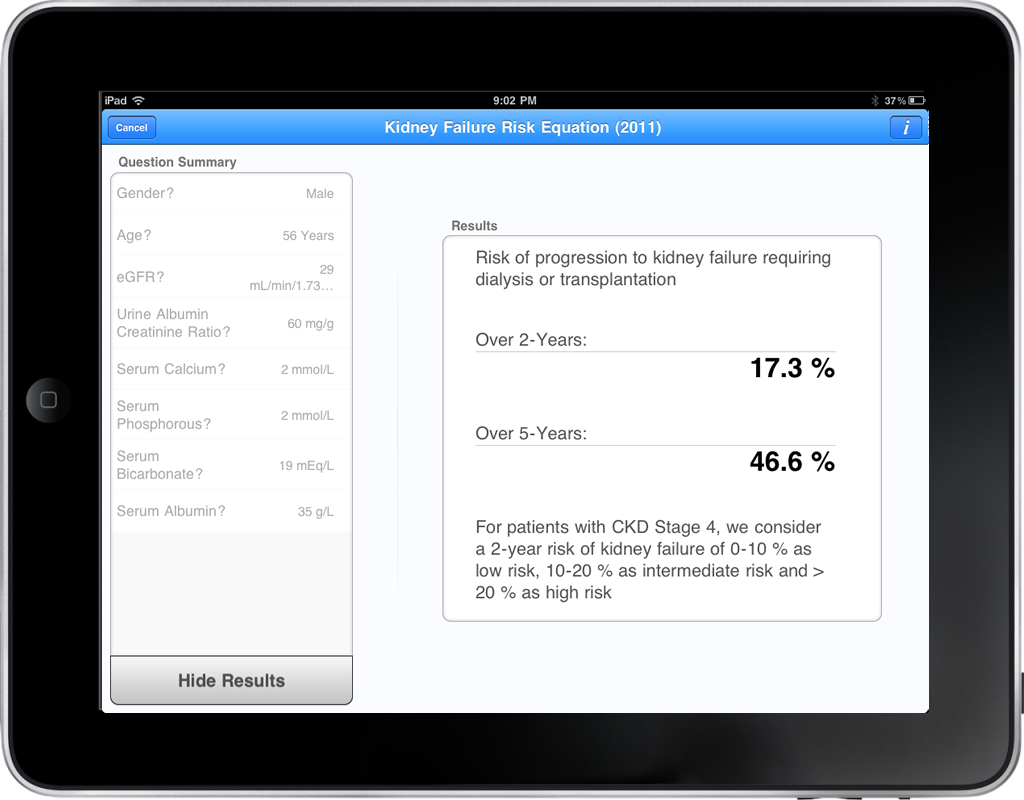 Understanding the probability of needing dialysis or a transplant for someone with kidney disease is critical for both patients and their doctors.  A powerful predictive model that can help determine this risk has been presented at the World Congress of Nephrology today by Dr. Navdeep Tangri, a physician and researcher from Tufts Medical Center.  While most research slowly becomes known to the world medical community over a period of months to years, Tangri is collaborating with the Journal of the American Medical Association (JAMA) and mobile medical app developer QxMD to enhance knowledge translation and get health care providers using his research right from the first day of presentation.
Designed to coincide with the 11AM PST research presentation at the 2011 World Congress of Nephrology, JAMA will be publishing his article online and QxMD will be adding his predictive model to medical calculator app "Calculate by QxMD" (http://qx.md/calculate).  The article will be online in pdf format and the mobile app is available for iPhone, iPad, iPod Touch, Android and BlackBerry.
When asked abou the potential impact of his work, Tangri says "Our models accurately predict the risk of kidney failure in patients with kidney disease using demographic and laboratory data that's readily available. As such, these models can be integrated into electronic health records and laboratory information systems facilitating risk reporting at every patient encounter."
"Knowledge translation is the component of research that ensures new knowledge is disseminated and used by the doctors who work directly with patients," says medical director of QxMD, Dr. Daniel Schwartz.   "A good knowledge translation strategy is critical since the publication of research alone often does not lead to widespread implementation or health impact.  Using mobile apps to convert research findings into practical handheld tools holds much promise for moving new findings from the desks of researchers into the hands of clinicians at the bedside."
Dr. Tangri's 'Kidney Failure Risk Equation' was developed and validated in two independent populations of chronic kidney disease (CKD) patients.  Of the study population of 8,391, 57% were men and 38% had diabetes.  Kidney failure occurred at a rate of 11 % and 24% over a median follow up of 2 and 3 years respectively.
The risk calculator provides the 2 and 5 year probability of treated kidney failure (dialysis or transplantation) for a patient with CKD Stage 3 to 5.  It can be used by any health care provider with access to readily available demoographics such as age and sex and lab tests including estimated kidney function, urine protein, as well as blood calcium, phosphorus, bicarbonate and albumin.
Determining the probability of kidney failure may be useful for patient-provider communication, triage and management of nephrology referrals as well as timing of dialysis access placement and living related kidney transplantation.
Reference:
Tangri N, Stevens LA, Griffith J, Tighiouart H, Djurdev O, Naimark D, Levin A, Levey AS. A predictive model for progression of chronic kidney disease to kidney failure. JAMA 2011;305(15). DOI:10.001/jama.2011.451
http://qx.md/jama
QxMD is not affiliated with the American Medical Association or the Journal of the American Medical Association.
Learn more at www.QxMD.com/kidney-failure-risk-equation
Download the app at http://qx.md/calculate