At QxMD, we believe that knowledge translation– the process by which new knowledge is incorporated into clinical practice – is an important and unsolved challenge for our health care system.  Calculate (iOS, Android, BlackBerry, Windows) is our best known app to date and has focused on converting clinical prediction rules and medical calculations into simple to use tools to enhance point of care decision making.
We know that health care professionals need to stay up to date on the latest medical research and topic reviews to provide optimal care. Unfortunately, the process of content discovery is broken with research artificially compartmentalized by publishers and hidden behind countless institutional pay walls. We built 'Read by QxMD' (iOS, Android) to provides a single place to keep up with new research, read outstanding topic reviews and search PubMed.
This iPhone, iPad & Android app provides a simple interface that drives discovery and seamless access to the medical literature by reformatting it into a personalized digital medical journal (think Flipboard meets Pubmed).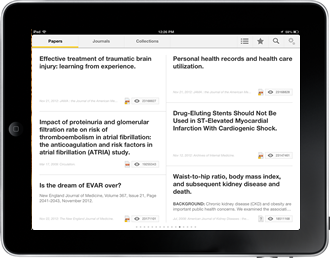 Key Features:
✔ Get full text PDFs with one tap
✔ Keep up with the latest new research that will impact your practice
✔ Browse through 1000s of outstanding topic reviews
✔ Search millions of articles from PubMed and our database of outstanding topic reviews
✔ Read your favorite journals or browse article collections.
✔ Access full text through your university/institutional subscription or via open access publishers
✔ Share articles with colleagues over email, Twitter and Facebook
✔ Organize and review your personal collection of articles
How does Read compare to other apps?
Docphin
connects users to journal table of contents, news feeds and twitter accounts related to a user's specified interests.  The user tells Docphin 
what they think they want 
and depend on
 3rd party curation 
to recommend content
Read uses machine learning, semantic analysis, crowd-sourcing and proprietary algorithms to 
figure out 
which content our clinicians should be reviewing.  Our users have been amazed at how well the system finds articles that impact how they practice medicine and care for their patients.While Docphin provides a web and iPhone interface, they lack a great tablet interface for reading medical journals.  QxMD has built an elegantly simple interface for iPad and iPad Mini.
Compared to Medical Journals Apps:
Tablets are clearly a winner when it comes to consuming media, and medical publishers know this.  While many medical journals have iPad & iPhone versions, it's still much 
less than 1% of all medical journals
.  As the number of medical journals with iOS versions grow, people will quickly realize they don't want to use 100 different apps to read 100 articles from various journals.The difference between medical journals and consumer magazines is worth pointing out.Someone may choose to read Vanity Fair on iPad because they love the magazine, the ads, the opinion pieces, etc. Readers trust that Vanity Fair will do a great job and are attracted to the magazine and the content their editorial team will pull together.  Medical journals collate articles in a highly artifactual way as authors compete to get into the best journals (primarily to ensure academic promotion).But users want to read articles based on quality & relevance to their practice, regardless of where they are published.  While journal impact factors is certainly an import indicator of article quality, there are dozens of factors which, collectively, are much more important that just the journal impact factor.  Even if one were to keep up with all the top tier journals from ones own field, one would miss a large number of articles.  Looking at the example of Nephrology, >50% of landmark articles in this field are published in 
non-kidney journals
.  This holds true in all areas of medicine.
So, clinicians want a collection of all the relevant and high quality articles that might impact them and their patients.  They need a personalized medical journal.  That's what Read does – and no one else is doing this the way we do.
UpToDate
 is a massively successful company that provides excellent summary articles on many topics in clinical medicine.  Users and institutions pay large fees to access these articles while UpToDate has the best authors submit topic reviews.
Here's an example.  Dr. Gerald Appel is an international ex
pert in Lupus Nephritis, and as such, UpToDate had him contribute a summary on the topic: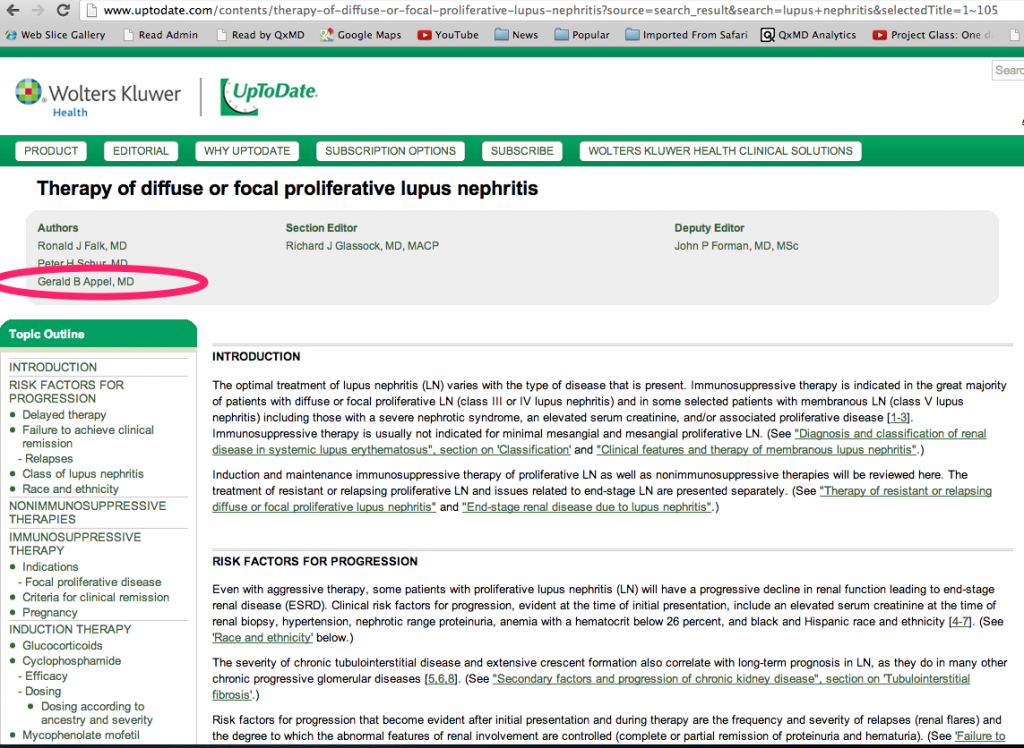 However, the medical literature is rich with outstanding topic reviews.  In fact, Dr. Appel has written great topic reviews on lupus nephritis and published them in great journals.  Universities pay millions for site licenses to access these journals, but pay again to use UpToDate because no one can find these great topic reviews.
Read by QxMD connects users to these outstanding topic reviews.  Here is a screen shot of the topic reviews that 'Read' found on lupus nephritis.  Guess who wrote 2 out 3 – Dr. Gerald Appel.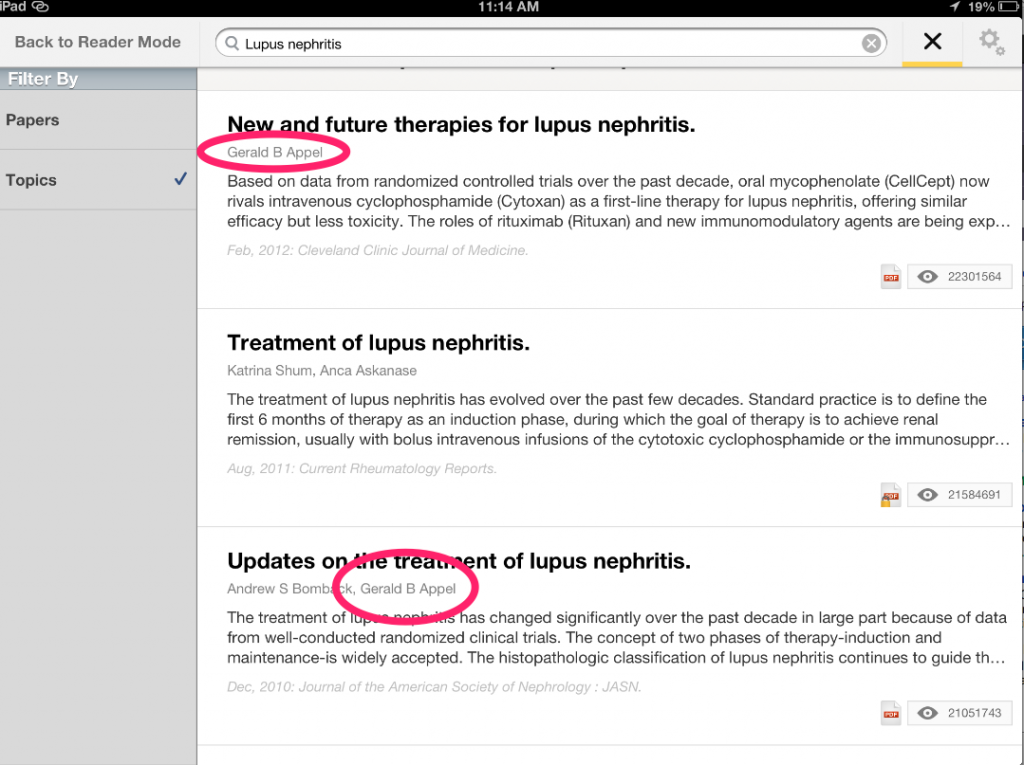 Why are doctors and institutions paying UpToDate for access to topic reviews that already exist in the medical literature?  Because no one can find them.  That's what Read does – connect users with the most relevant and high quality content.  While subscriptions through institutions are needed, institutions are already spending millions of dollars to give their members this access.  University libraries can increase return on investment when their members use our app to engage more deeply with the medical literature.
Compared to Pubget
Pubget tackled the problem whereby once user knows they want to read an article, it involved up to 10 minutes of frustrating interface with a university library system to find the e-journal resource.  They brought that process down to 1-click and in doing so, became a top search portal for the medical literature. However, Pubget doesn't do any type of algorithmic curation.  You search and they help connect you with the e-resource.

Read helps users discover content and then uses similar techniques as Pubget to get full text PDFs in 1-tap.
Yes, our largest competitor is apathy.  Keeping up to date can be so overwhelming and frustrating that many clinicians may not do a great job of keeping up with the latest medical research. 
We believe (and our beta users support) that a Flipboard-like experience makes keeping up with the latest medical research and topic reviews both simple and enjoyable.
If you haven't tried Read by QxMD yet, please download it for iOS, give it a try and let us know what you think.