QxMD has recently released 'Calculate' for iPhone, a next-generation medical calculator & clinical decision support tool.  Once again, our software is provided freely to the medical community.
The app is the result of a collaboration between clinicians from a multitude of medical specialties and adapts to a user's area of interest and typical usage.  The content is extensive yet excludes decision tools and calculators that are deemed to have minimal clinical applicability.   While we include typical medical calculators, many of our decision support tools are unique to our app and have been developed in collaboration with the authors who published the original research.
QxMD is excited to announce that as of April 20, 2010, this new application has risen to the number 1 ranked free medical application, surpassing the likes of Epocrates and Medscape.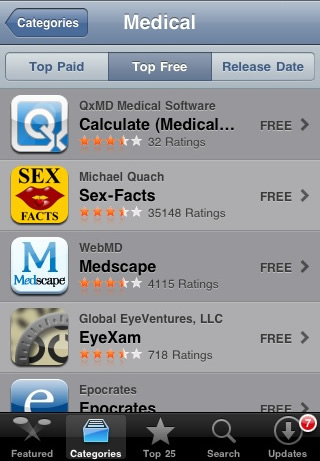 ___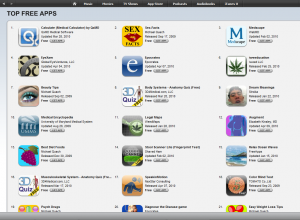 Download Calculate (medical calculator) from iTunes today.
Learn more about 'Calculate' by QxMD.
This app will be available for BlackBerry within the next week and Android soon thereafter.
A selection of tools found in this app include:
WHO Surgical Safety Checklist
Predictive models for cardiac surgery and coronary angiography
Determine cardiovascular risk and guide lipid treatment using the Framingham and Reynolds Risk Scores
Use the CHADS2 score to guide treatment in atrial fibrillation
Better understand the risk of bleeding from anticoagulation in atrial fibrillation
ACS using the TIMI risk score
Burns with rule of 9s and Parkland formula
Hypernatremia (calculate water deficit)
Prognosis in Heart failure, Lymphoma, Myelodysplastic Syndrome, Myeloma, Glomerulonephritis, Hemodialysis, COPD, TIA & Pancreatitis
Dose Chemotherapy based on Body Surface Area
Dose Carboplatin based on AUC
Dose phenytoin in renal failure and hypoalbuminemia
Ideal body weight, BMI and BSA
Due date and gestational age calculator
Extensive formula used in echocardiogropathy and invasive hemodynamic monitoring
Kt/V in dialysis patients
eGFR with CKD-Epi, Cockcroft-Gault, and MDRD
A-a gradient
Stage Lung cancer & Renal cell carcinoma
TTKG (transtubular potassium gradient) in hypokalemia and hyperkalemia
Dermatome Map